Synth Presets
Yamaha EX5
The EX5 features a unique Extended Synthesis system which incorporates a number of the most advanced tone generator technologies currently available...plus a full-featured sampling system. It offers a Four-Element Voice structure which allows for up to four independent waves from any of the tone generators. The tone generators implemented here include AWM2 (Advanced Wave Memory) Synthesis, AN (Analog Physical Modeling) Synthesis, FDSP (Formulated Digital Sound Processing) Synthesis and Virtual Acoustic (VL) Synthesis

Roland D-50 / D-550


The D-50 is an all-time favorite digital synth that's still just as popular today as when it first came out in '87. Once Roland's hottest digital synth, it competed against the Yamaha DX7, and was much easier to use. By joining 8-bit PCM samples with "LAS" synth-generated sounds, the D-50 is capable of unique and complex sounds. The PCM samples contained the attack transients, while the rest of the sound came from the Linear Arithmatic Synth (LAS) section which sounds very analog, with subtractive-style synthesis and low-pass-resonant filters. Built-in chorus and (for the first time) digital reverb are also included for giving your sounds space and life! It also has a joystick controller for real-time timbre manipulation. The D-50 was great for new and non-acoustic, percussive, ethereal and beautiful pads & sounds.

VPS AVENGER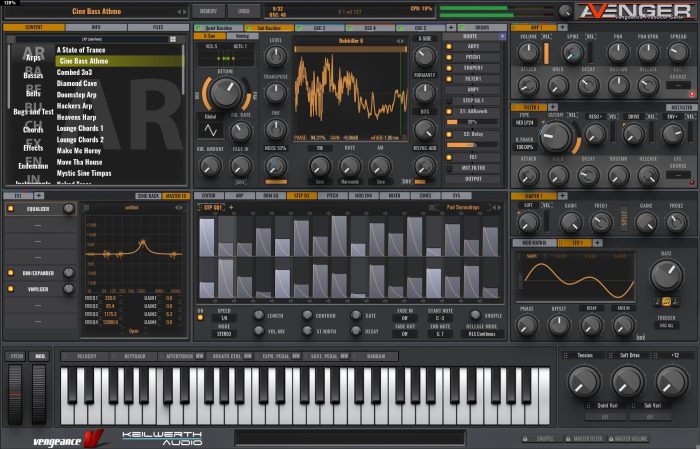 VPS is your new workhorse in the studio. It can do anything, sound like everything, and the best thing is: its easy understandable and comfortable to use.

Together with its huge library and tons of unique and outstanding new features, Avenger is a true game changer. Not convinced yet? Please watch our product video or check out our demoversion!
SYNTH1
Synth1 is a software synthesizer designed by Ichiro Toda. It was originally designed as an emulation of the Nord Lead 2 synthesizer, and has since become a unique Virtual Studio Technology instrument and one of the most downloaded VST plug-ins of all time. The software used to be a DirectX instrument plugin, but became solely VSTi from version 1.08 on. Version 1.13 was the first version to introduce a native 64-bit version of the plugin.
Download Synth1 here for Free.
We offer a complete range of Synth1 presets.
Refine Search
Showing 1 to 1 of 1 (1 Pages)